Although Kal-El of Krypton aka Clark Kent of Smallville aka Superman of Metropolis, never appeared in the Batman TV Show there are a few instances of the 60s Batman TV show and Superman being linked in one way or another. These moments and references stretch from 1966-2020.
Some of the moments/references listed below have already been briefly touched upon in my blog post – Batman 66 Connected Universe , but I hope to expand on those here and include other instances that would not have been appropriate for that blog post too;
FICTION
15th September 1966


Batman: Season 2 Episode 4: The Cat and the Fiddle
Although he did not appear on Batman (1966-1968), Superman is referenced in this episode.
After Catwoman tells two of her henchmen, to go out on the window ledge with their loot bags, we see Batman pull up to the building in the Batmobile, and shortly after we see Commissioner Gordon and Chief O'Hara walk up to the building with a couple of policemen in tow. Batman gets Commissioner Gordon and Chief O'Hara caught up to speed with Catwoman's nefarious plot and the importance of the tall building they have come to.
They notice the two henchmen and the following dialogue ensues;
Chief O'Hara: Look, up there, are they birds?
Commissioner Gordon: Are they planes?
Batman: No, they're cat burglars!
A clear nod to the dialogue spoken by citizens of Metropolis in the opening of The Adventures of Superman (1952-1958) TV Series, "Look! Up in the sky! It's a bird! It's a plane! It's Superman!"
8th September 1984 – 31st August 1985
Super Friends: The Legendary Super Powers Show
&
7th September 1985 – 6th September 1986
The Super Powers Team: Galactic Guardians


The Super Friends cartoon series ran from 1973-1986. Two regular members of the Super Friends were Batman and Superman. In the final two seasons of the Super Friends, Olan Soule, was replaced as the voice of Batman by Adam West, allowing for "our" Batman to interact with the Man of Steel!
5th June 1988 (43 Minutes, Radio 4 Broadcast)
19th October 2010 (60 Minutes, Special Extended Edition CD Release)


Superman on Trial
Superman is put on trial for crimes against Humanity, with Lex Luthor as Prosecution Counsel and Lois Lane as Defense Counsel. Jimmy Olsen, for the defense, early on in the story makes mention of comic books and radio series, establishing an awareness of the real world media made about Superman, and talking about it as real history in his world. Witnesses for the defense are called from both the fictional and the real world, among them, Adam West playing himself.
Adam West, referred to as having portrayed Batman on TV, defends the value of stories about costumed crimefighters as a influence for good. He defends Superman against Lex's accusation of flaunting the law. He also responds to the notion of comics/graphic novels having gotten darker.
Later on in the story, Lex Luthor is perturbed by a commotion going on at the back of the court room, this is revealed to be Adam West leaving and shaking hands with Batman. Although there are no lines spoken here by Adam West, it is nice to have TV's Batman and in this story, Batman himself shaking hands, perhaps a symbolic show of mutual respect or admiration for what each has done for the other?
At the end of the "Drama Documentary" as Lex calls it, Lex Luthor uses his one phone call to talk to the legal department at Lexcorp, and states that he wants the following people sued for defamation of character, and then proceeds to list off the credits of all those involved in the production, including "Adam West, Actor".
14th May 1995


Lois and Clark: The New Adventures of Superman: Season 2 Episode 21: Whine, Whine, Whine
Before the opening credits of the episode, Superman saves a guitarist, by the name of Calvin, from a giant speaker that was about to fall on him. In doing so Superman inadvertently breaks the Calvin's left hand. Calvin receives medical attention but is still annoyed and ungrateful towards Superman. Calvin hires a lawyer to take out a Subpoena on Superman.
Superman takes his Subpoena to Lois Lane who recommends he seek out a lawyer. The first, refuses the case
Adam West, appears throughout the episode as Jerry Retchen, a presenter with his own show called "Jerry". Jerry puts forth the argument that Superman is just a bully in a cape and considers himself too important to be held accountable for his actions, and interviews Calvin about what Superman did to him.
Frank Gorshin, The Riddler in the Batman TV Series, appears as a ruthless Lawyer that Superman is meeting with to consider hiring him. His ruthless tactics unnerve the Man of Steel. In talking to Superman he has to check the S on his chest to remember that he's talking to Superman!
Interesting for Adam West to appear in another project where Superman is put on trial!
10th October 1998


Superman: The Animated Series: Season 3 Episode 2: Knight Time
Roddy McDowall, who played Bookworm in the classic Batman TV show, played Jervis Tetch/The Mad Hatter in Batman The Animated Series, and reprises the role of The Mad Hatter in this episode of Superman: The Animated Series where Superman comes to Gotham City to find out why/how Batman has gone missing.
16th December 2015


Batman 66: Issue 30
(Collected with Issues 23-29 in Batman 66: Volume 5)
(Collected with Issues 1-29, the Lost Episode and the story, "Batman-A-Go-Go" from Solo Issue 7: Mike Allred in Batman 66 Omnibus)
Arguably the closest thing to a Superman appearance in the Batman TV show, comes in the final issue of the main run of the Batman 66 comics, Issue 30.
As Batman and Robin scale the side of the Greene-Way Studio Office Building, so that they can get a good look over the movie studio where all Gotham's criminals, except the Riddler, are holding a Criminals' convention, three people from Metropolis' Daily Planet pop out of the window.
These Daily Planet employees are Perry White, Jimmy Olsen and Lois Lane from The Adventures of Superman TV show. They are amazed by Batman and Robin and offer to help where they can. Batman and Robin ask that they simply continue to honestly and impartially report upon the news.
Lois laments that it's "Too bad Clark had to stay in Metropolis to cover another story"
Later in the issue, to switch the odds in their favour in a 300-2 fight, Batman uses a remote control in his utility belt to enable the Batmobile to drive itself, this attracts the attention of Batgirl on her Bat-cycle, the Police and many reporters.
On the final page, in amongst the many reporters that we see trying to get a word from Batman, we see Clark Kent from the Daily Planet.
Thankfully Clark did make it to Gotham City after all!
28th June 2017


Batman 66 Meets Wonder Woman 77: Issue 6
A slight hint but noteworthy nonetheless. After Batman and Wonder Woman deal with Ra's Al Ghul and his League of Shadows in various ways throughout the 1940s, 1960s and 1970s, in the final panel of the final issue of this mini series, Wonder Woman suggests to Batman, "Perhaps we should talk about a League of our own", and the final caption reads "The Beginning?". Nothing has come to pass of a Justice League in the Batman 66 comics as of this writing (16th January 2020), but this is a definite hint towards that possibility.
8th December 2019


Supergirl: Season 5 Episode 9: Crisis on Infinite Earths Part One
The first part of The Crisis on Infinite Earths TV crossover established the Batman TV series as having taken place on Earth 66. [A Blog post taking an in-depth look at this appearance will be posted the week of 22nd-28th of this month]
Various TV shows and Movies throughout DC Comics Media history appeared in the 5 part Crisis on Infinite Earths crossover, thus tangentially connecting the Batman TV series to various Superman and Superman related media including; Supergirl (TV Series), Christopher Reeve's Superman Movies, Smallville, Fleischer Studio's Theatrical Cartoons and the DCEU.
Non-Fiction
Although the entries listed below to not contribute to any ongoing narrative, I think they are still of note;
12th June 2006 (Shortened TV airing)
20th June 2006 (Full Length DVD)


Look, Up In The Sky: The Amazing Story of Superman
The only documentary I am including in this blog post. One could argue there are various documentaries that analyse both 60s Batman and Superman. Whilst this is true, nothing links the two together in other documentaries other than their being analysed. This documentary however clearly about the history of Superman features Adam West despite not being about Batman. The documentary refers to Batman as "In 1966, DC's number two hero Batman came to television as a straight faced parody". Adam West then discusses the tone and impact of the Batman TV series. This is used in the documentary for contrast as Superman, at the time Batman was a hit on television was appearing in "It's A Bird, It's A Plane, It's Superman: The New Musical Comedy on Broadway" that despite being tongue in cheek, a parody in a way, like Batman, was not particularly successful. A random little gem to have Adam West pop up here, where you don't expect him!
2010-2017 (Dates are first mention or first use I could find)
Paintings by Alex Ross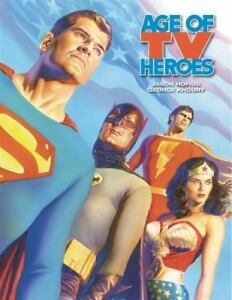 George Reeves' Superman, Adam West's Batman, Lynda Carter's Wonder Woman and Jackson Bostwick's Captain Marvel/Shazam!
This piece was used as the front cover to the book "Age of TV Heroes" by Jason Hofius and George Khoury, originally published 9th March 2010

George Reeves' Superman flying over the Batmobile, with Batman driving, and Robin and Superman waving at one another.
The 13th Dimension reported on this piece and other Alex Ross art here on the 14th February 2017

The heroes from Legends of the Superheroes, Barbara Joyce's Huntress, Bill Nuckols' Hawkman, Adam West's Batman, Burt Ward's Robin, Howard Murphy's Green Lantern, Rod Haase's The Flash, Alfie Wise's The Atom, Garrett Craig's Captain Marvel/Shazam! And Danuta Wesley's Black Canary plus Christopher Reeve's Superman and Lynda Carter's Wonder Woman.
This Item features in a video of Alex Ross' work on his YouTube channel from 5th October 2017 promoting NYCC 2017:
To finish off this blog post, here are a couple of random videos that may be of interest and have tangential connection to this blog post;
Adam West appears near the end of the video